You might call us an unlikely group: a cowboy and several people with "day jobs", but we make  it work. Eldon runs ranch operations and a large group of volunteers contributes hugely to daily  responsibilities of running the ranch. Our volunteer staff makes us very proud. These are people who will get up extra early to come feed horses and muck stalls at 7am before going to their jobs, or who will give us a Saturday to help rebuild stalls or groom horses. They come from countries across the globe, in many flavors of professions (academics, dot-commers, goverment, industry), but they all share a love for the horse.
Eldon W. Kelley ("Rooster")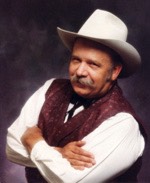 My name is Eldon Kelley. I'm what you would call sure 'nough a cowboy, and I've been around horses my whole life. Up North, where I worked cattle, they call us buckaroos, and I've been known as "Rooster" for years. I'll tell you the story sometime. 

I grew up on the Peninsula, and I remember when it was filled with orchards - you could look out over the valley in the spring and see nothing but pink. My family raised horses and farmed hay in what is now East Palo Alto. Our house is gone now, and the hayfields are flood zones or industrial parks, but when I drive over the Dumbarton Bridge I can still spot the old palm trees that once grew in our yard.